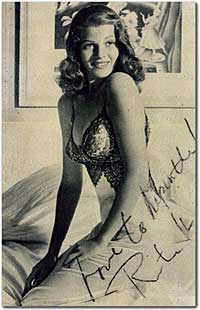 Rita Hayworth and Orson Welles
From the Nepenthe Inn website:
Everyone asks about Rita Hayworth and Orson Welles, so here is the story as I heard it from my grandfather:
They had been up in San Francisco selling War Bonds for the
U.S.
Government. It was during the war, so everything was rationed. Payment for their services was rendered in gas coupons, and they decided to cash in their coupons and head back to
L.A.
on the new scenic route, Highway One.
Looking for a spot to picnic, they ventured up a meandering dirt road that took them to a cabin on a hill overlooking the south coast. Entranced by the view before them, they went looking for a realtor to sell them the cabin. It would be their retreat from the hubbub of the movie industry, a place just for the two of them.
Rita measured the windows for curtains, and Orson talked about laying in pipe for gas in the kitchen. Scrounging for a down payment, they came up with a little over $167.00 between them. And the place was theirs.
They never came back to the cabin on the hill, selling it to my grandparents in 1947. Daddy Bill said he had to get the deed signed off by both of them, and what with Rita being in Brazil to film one movie, and Mr. Welles traveling in Europe, and neither one of them much caring to help the other out at that point, it took two years to get title.
They were not the first celebrities to fall in love with the site, nor the last - but theirs is the story I hear again and again, each telling different from the last. So it is that the old log cabin is known as their love chalet, even though they never even spent one night.