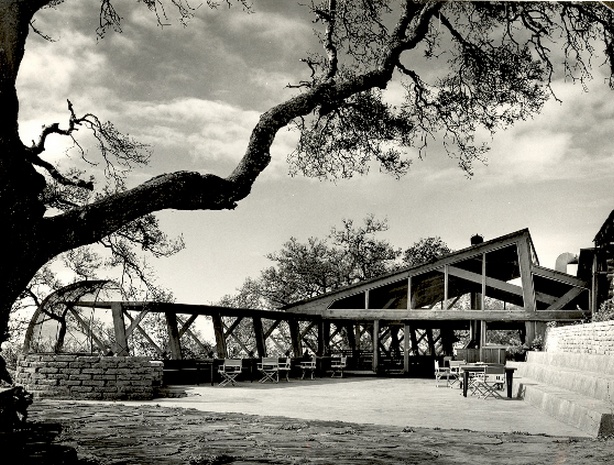 We'll end the Nepenthe series with more about the architect who built this remarkble redwood landmark structure.  This is from the book by Romney Steele, the grandson of the founders:
THE
POETRY
OF
PLACE
:
NEPENTHE
'S
UNIQUE
ARCHITECTURE
April 15, 2009, 12:13 pm, by romneysteele
Photograph by Morley Baer, ©2009 by the Morley Baer Photography Trust, Santa Fe
As Bay area architect Henrik Bull told me last year during a phone interview, he has always said–"You can't do a good building, without good clients." And what better clients than my grandparents? In particularly my grandmother, Lolly Fassett, who had a mind of her own when it came to building things, and believed strongly in the aesthetics and poetry of place; in finding someone to translate her ideas and not merely design their own; someone who showed respect for materials, for the grand view, for the artistry and craft of building. She wanted someone who was as interested in engaging in the process with her (they had already interviewed several architects, none matching up); someone who would integrate form with surroundings, not over power it, and who sympathized with her dreams of creating an open-air restaurant, a place for people to come to forget their worldly cares,  not just a roadside stand as my grandfather once aspired for. She found this in Rowan Maiden, a young, bright architect and former student of Frank Lloyd Wright, whom she met at a party on Huckleberry Hill (an artists enclave), in Monterey, in the late 40s. There was an immediate connection and they soon began working together to draw up plans. Original drawings showed an open-air restaurant, without windows, running the length of the wall facing south, though ultimately this was impossible, and so they settled for thick beams and walls of glass and a 100 foot bench stretching out to the patio, a semi-circular terrace (since expanded), meeting up with the hand built, brick fireplace–all of it using native and mostly local materials.
Rowan Maiden brought a studied skill and an artists eye to the collaboration. He spent several years at Taliesen (having been awarded a fellowship there in the late 30s), Frank Lloyd Wright's school and home in Wisconsin (and sister program in Arizona), and became one of his best students. But as Henrik Bull pointed out, Wright's students didn't always develop a personality of their own, and in some cases just became mimics of his noted style. Maiden was different. Though there are imprints of Wright in Nepenthe at first glance, it is uniquely a Maiden design. "Nepenthe was unique and didn't follow any particular style trends," Bull told me, adding that he suspected my grandparents had a lot to do with the design themselves, relaying how good design doesn't happen on its own–it's built on trust between the client and the architect.
Rowan's career, sadly, was short lived (he died at a young age in the late 1950′s, leaving a wife and 3 children–one of them, his daughter the late Romney Maiden Fennell, was my namesake) and his work somewhat forgotten over the years, though he designed many fine houses, several on the peninsula and in the bay area. Nepenthe remains his best known and revered project. Its design was featured in Arts and Architecture early on, as well as in Architectural Forum (with photos by renowned California photographer, Morley Baer), putting the restaurant on the map. Recently Maiden's work and Nepenthe design, featured again in 2 books on California architecture, one by
SF
architect Pierluigi Serraino in his book NorCalMod: Icons of Northern California Modernism, placing Maiden's designs and Nepenthe in the arc of the Modern movement.