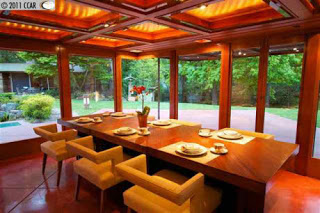 Today we are showcasing a mid-century Frank Loyd Wright redwood home in Orinda CA.  This landmark is listed on the National Register of Historic Places. Frank Lloyd Wright designed this 1948 home in the wooded hills of Orinda for Katherine Z. and Maynard P. Buehler.
The Buehler house is one of the few homes Wright designed in the Bay Area.
It is a showcase of mid-century American modern architecture set in a 2.3-acre private Japanese garden, designed by Henry Matsutani, who also designed the Japanese Gardens in San Francisco's Golden Gate Park. 
 "The Buehler House shows Wright playing with the division of space in creative ways," says the Been Seen travel website. "From the street the home resembles a flat-roofed concrete box, but when seen from the  garden, Wright's ingenious architectural flights of fancy are clearly visible."
The steel frame, 3-bedroom, 3.5-bath house with redwood panel cladding is built in what Wright labeled his Usonian style, a style inspired by a New World character of American landscape, "distinct and free from previous architectural conventions." In the Buehler house, this Usonian style translate into a distinct flat roof life, an L-shaped plan and organized around a modular grid.
We'll post more pix of this home tomorrow.  Enjoy.