The Tracy House – The Tracy House was built from 1955-1956, only a few years before Frank Lloyd Wright's passing. It also follows the Usonian design, featuring the trademarks of redwood plywood panels, glass, and concrete slabs. In fact, the 1700 slabs were cast by the owners and the contractor was Ray Brandes, the same one who built the Brandes House. The design faces west to take advantage of the Puget Sound and Olympic Mountain views and is at an angle to offer the privacy so standard of Frank Lloyd Wright's designs.
Original Drawing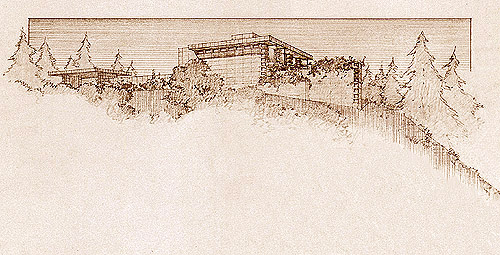 Original drawing of the Tracy Residence.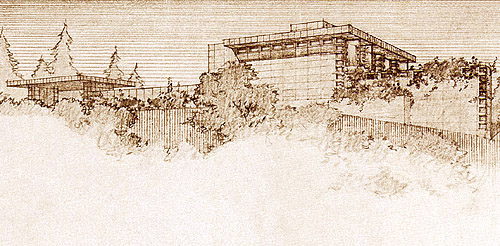 Detail from original drawing.
 

Date: 1992

Title: William and Elizabeth Tracy Residence 1992. William and Elizabeth Tracy relaxing on their back terrace.

Description: Caption on verso: "Ron Wurzer / Seattle Times. William and Elizabeth Tracy live in one of only three dwellings in the state that was designed by the renowned architect Frank Lloyd Wright. The house, with a sound view, was designed in 1954 and the Tracy's have been the only inhabitants." Newspaper caption attached to verso and stamped Aug 20 1992. Photograph by Ron Wurzer. Published on August 20, 1992 in the Seattle Times. Acquired from the archives of the Seattle Times.

Size: Original 10 x 8 B&W photograph.

ST#: 1992.74.1011

 
 
 

Photographs By Douglas Steiner, August 2001

| | | |
| --- | --- | --- |
| There are many classic Wright details. The basic material are concrete blocks, redwood and a red concrete floor with radiant heat, designed on a two foot grid. There are three sets of double wood framed glass doors on the West side of the Living Room that open outward and a set of corner glass doors that also open outward removing the corner. Row of vertical block columns of perforated concrete blocks and embedded |   | mitered glass corners. There are perforated concrete block windows and clerestory windows with embedded glass. The signature red glass tile. A sunken fireplace. The hidden entrance, but this door actually opens inward. Like many of Wright's homes, he designed the built-in seating, many of the fixtures and some of the furniture. |

 
Text and Photographs by Douglas M. Steiner, Copyright 2001