There are many myths that pertain to the ecological sustainability of composite materials, chief among them is that there is no difference between a natural lumber such as
Redwood
and composites. The opposite is actually the case, Redwood has a much lower carbon output and therefore the ecological smart choice which is so important in todays marketplace. 
Below is an article via the California Redwood Association covering why Redwood is the "green" choice.
Redwood resonates with green consumers e
ducation turns "obstacle" into asset
Consumers looking to "buy green" often need a little help sorting through hype in efforts to truly lower their carbon footprint. Increasingly, retailers are becoming the source of answers.
"Customers want to go green but don't always know what that means," says Clyde Jennings, president of
J&W
Lumber, Escondido, Ca. "We've established relationships with customers so they trust us, and we've put ourselves in the position to provide detailed information so customers can feel good about the products they're buying."
When it comes to selling redwood decking, a little education can go a long way. 
"Many consumers are surprised to find that building with redwood is entirely consistent with green living," says Bob Mion, marketing director for the California Redwood Association. "But once they learn about the unsurpassed environmental standards in redwood forests and how redwood products can help reduce greenhouse gas emissions, the green attributes add to the redwood experience and consumers come away happier than ever about choosing redwood."
Redwood's green benefits are as natural as the wood itself. Trees, by their nature, are a renewable resource. Plus, as they grow, trees absorb the greenhouse gas carbon dioxide from the air through photosynthesis. Trees release oxygen and store the carbon in wood fibers that ultimately become decking and fencing materials.
While there is in-depth science that details multiple levels of redwood's green performance, many retailers have found that customers respond to a relatively simple one-two punch of arguments.
"The renewable-resource aspect of the green story is important," says Jennings. "We hear so much about saving trees that consumers tend to forget that redwood lumber comes from sustainably managed forests. Knowing redwood forests are being conserved, with old trees preserved and harvested lands replanted, helps consumers connect with the redwood mystique. The redwood in their backyard is part of the natural cycle that goes back thousands of years and will endure thousands more."
While California boasts the toughest environmental regulations in the world and all redwood products come from California, most redwood producers have taken the additional step of independently certifying their forestlands. Nearly 90% of lumber-producing redwood forests are certified to be well-managed and sustainable under the world's two largest independent certification programs, the Forest Stewardship Council and Sustainable Forestry Initiative.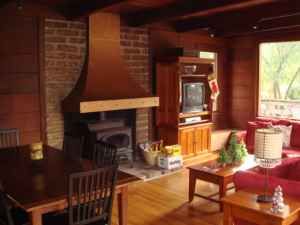 "Renewability and sustainability are easy to demonstrate," says Mion. "The redwood region has done more to advance sustainable forestry than any other region of the world."
The second critical aspect to understanding redwood's green value centers on greenhouse gas emissions. Efforts are underway across the globe to reduce greenhouse gas emissions, with carbon being the gas in the spotlight, and using redwood is a natural choice for combating climate change.
"There's a serious push to reduce carbon emissions," says Mion. "When people talk about reducing their carbon footprint, they're talking about how much carbon it takes to produce, ship and use a product over the course of its life. Science has shown that since the energy to produce redwood comes from the sun, not burning fossil fuels, and because redwood lumber is about 50% carbon by weight, using redwood can actually reduce carbon emissions."
Redwood's emission-reducing advantages can be more difficult to articulate, but can carry significant weight with consumers. Redwood's full carbon benefit comes from a combination of rapid growth, harvest and replanting efficiency, and energy consumption. Rather than engage in an in-depth discussion of the carbon cycle, however, many retailers prefer to offer shorter explanations that focus on bottom-line impacts. 
"The typical redwood deck stores more than a half-ton of carbon and it looks great doing it," says Jennings. "If customers are truly interested in reducing their carbon footprint, building a redwood deck can give them a carbon footprint they can stand on."
The
CRA
understands the importance of selling green and is changing their website accordingly. "The better-equipped retailers are to tell redwood's green story, the better they will be able to ride green momentum to higher redwood sales," Mion says. "We are enhancing our website to become a better resource to retailers and consumers on green building issues."