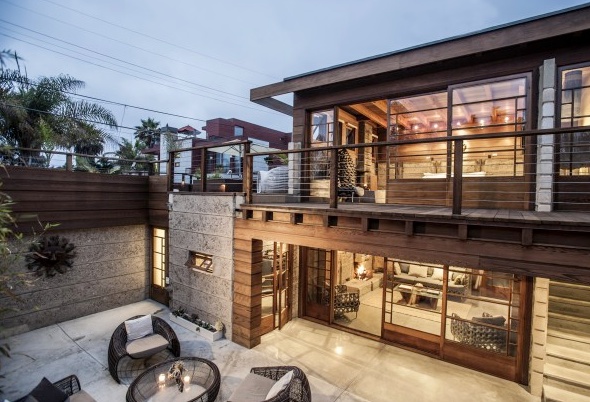 Today we are showcasing a masterpiece redwood home by Architect Rudoph Schindler. 
Modernist architect Rudolph Schindler used movable concrete forms to create El Pueblo Ribera Court. This concrete, glass and redwood unit is one of six with views of legendary surfing beach Windansea.
Location: Windansea Beach, La Jolla 92037.
Year built: 1923
Architect: Rudolph Schindler
House size: Two bedrooms, two bathrooms, attached 2-car garage, ocean-view deck, bonus studio suite.  1,400 square feet.
Features:
Redwood
-beam ceilings, 1,500-square-foot deck, roof deck soaking tub, San Diego historic site designation, Mills Act property tax reduction. (via In La Jolla, a Schindler with a view – latimes.com.)
The home is U-shaped around the patio/courtyard with all the doors and windows opening up to truly experience the outdoors as an essential part of living in the home.  The polished concrete floors shine with the overhead tech lighting system "floating" in between each of the redwood beams overhead.  This house was definitely modern in 1923 and it is still modern by todays standards.