Here are some tips from the Redwood Empire company on how to properly this summer so all you have to worry about is fun and what you will be serving under the sun to friends and family.
Establishing a good routine of upkeep that will protect your deck and prevent expensive repairs is a good idea. Luckily, a simple maintenance schedule will help keep your deck safe, sound, and looking great.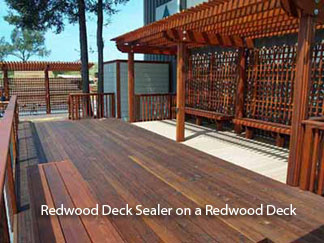 Each deck, no matter how it's been treated should receive a yearly cleaning.  Carefully, without using too much pressure, decks should be pressure cleaned.  If you've had a heavy rain season, there is a chance that there may be some standing water puddles on the deck. If this water is left to stand, mildew and wood rot could begin to take over your deck. Be sure to push these puddles from the deck with a brush or broom. Decks should be cleaned with a specialized deck cleaner to protect the structural integrity of the wood.  These liquid deck cleaners will also enhance and brighten the natural wood grain of your deck. This cleaning should remove all mold, dirt, and grime.  
Once your deck has been cleaned, keep nearby bushes and trees cut back twelve inches from the deck to slow moss and mold. Be sure not to let leaves and debris pile up in the corners. Occasionally move planters, chairs, and other furniture to avoid discoloring the decking. Also keep nearby gutters and downspouts clean and in good repair. 
Next give your deck's structure a close inspection. Pay special attention to areas within six inches of the ground or places close to water sources,like downspouts or planters. Check the stairs and each perimeter post for rot. If you can push a flat head screwdriver more than one-quarter inch into the wood, you may have rot. Inspect the joists, posts, and beams on the underside of your deck.  Pay special attention to the ledger, the special piece of framing that attaches the deck to the house.  The ledger should be attached with screws, not just nails, while the flashing or metal that covers the ledger should be free of rust and holes.  Not all decks have ledgers; some are free standing with a beam and post located within a few feet of the house. 
On the topside of your deck, inspect for decking boards.  While not all cracks are a structural threat, they will get worse with time.  If you find damage, have the piece replace.  Check for spots of cupping.  These areas can be sanded.  Check the railings to make sure the rails and posts are not loose and damaged.  If your decking has been nailed, you may find some nail head pops.  Have these pops set, so they're flush with the decking boards.