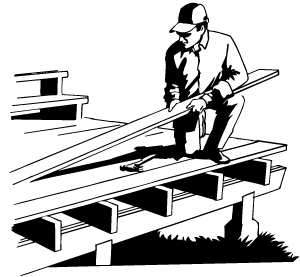 At the
Redwood
Empire Company we field lots of questions about how to properly construct a deck that is not only safe but looks fantastic. 
As you evaluate the safety and construction of your new or existing deck, knowing these simple steps will help to ensure your deck is structurally sound and properly maintained.
1. Check Out Your Deck
The first step in making your deck safe is knowing that it may not be. Decks are potentially the most dangerous part of the house, according to some experts. Factors, such as improper construction, exposure to the elements and lack of maintenance can make your deck unsafe. It's important to look for the warning signs: missing or loose connections, corrosion, rot and cracks. If you are unsure about the safety of your deck, consult with a design professional or qualified contractor.
2. Carry the Weight
For most homeowners, the deck is a popular gathering place for friends and family. Like a house, a deck must be designed to support the weight of people and objects placed on it as well as the forces of Mother Nature like wind, snow and earthquakes. Knowing how weight and other forces can affect the safety of your deck is important. There are three types of forces that put pressure on your deck, causing strain to the critical connections that keep it together:
Gravity – downward pressure typically caused from people standing on the deck or from snow and ice.
Lateral – a back and forth (horizontal) motion caused by people walking on the deck and/or leaning on a railing. Wind and earthquakes can also create lateral movement.
Uplift – wind flows under the deck creating a lifting effect. People standing on the overhang of the deck also creates upward pressure on the connection that attaches the deck to the adjacent support structure (typically your home).
3. Create a Path
A continuous load path, that is. A continuous load path is a method of construction that creates a series of solid connections within the structure of the deck that transfers load through its frame to the ground and adjacent support structure (commonly your home). If your deck is built with a continuous load path, it will be better equipped to resist the forces that can weaken your deck.
4. Combat Corrosion
Decks and the metal connectors that keep them connected and safe are exposed to the elements. Over time, metal connectors, screws and nails can corrode and weaken the structure of your deck, especially if the right product is not used. If you live in an area prone to moisture, such as along the coast or near bodies of water, the risk of corrosion is much higher. Chemicals in pressure-treated woods and other corrosive elements can also damage your deck. Using connectors, screws and nails that are made from stainless steel is the best way to combat corrosion. When choosing connectors, take into account where you live and how weather and the environment may affect your deck. For critical information about corrosion and connector selection, click here.
5. Maintain a Safe Deck
Just like other parts of your home, regular maintenance and inspection are required. To prolong the life of your deck, you need to check for things like loose boards or protruding nails. You should also keep your deck clean from debris and depending on type of deck boards used, keep them sealed to protect against water and sun damage.