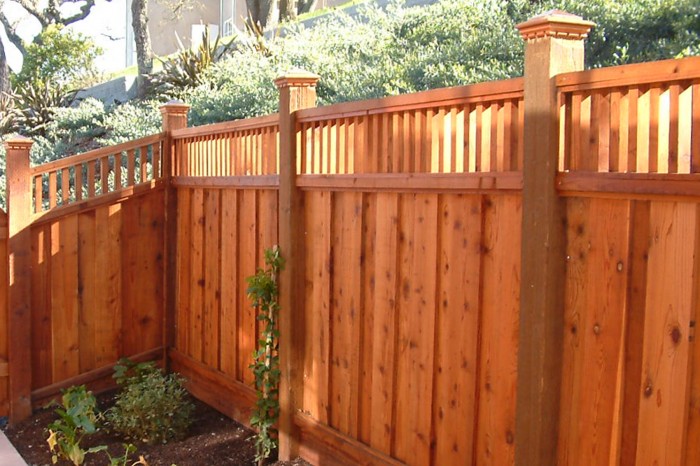 With the proper care and maintenance, a sturdy redwood fence can last for many years. Though paint is an option and it does protect the wood, it also hides the natural beauty of redwood. Using a water-repellent preservative on your redwood fence will enhance the natural color while protecting the wood grain. The following tips will provide with you the expertise on how to seal your Redwood fence so its natural beauty can be enjoyed
Select a water-repellent preservative in either clear or tinted. Clear products do not affect the natural color of the wood but if you want to go a little darker, a tinted sealer is a good choice. 
Spread out a drop cloth under the work area. When working on a long fence, start at one end and progress towards the other moving the drop cloth and materials along to each new section as you go.
Choose a dry day to apply the sealer to your redwood fence. Wood-sealer products only work within a specific temperature range, so check the container and choose a day when the forecast predicts suitable temperatures for the product you selected.
After completion the last step it is best to place a plastic liner into a painting tray. Shake the container of sealer thoroughly and then pour it into the tray. Place a disposable roller cover on a roller handle.
Roll the sealer onto the flat areas of the redwood fence creating an even coating over a section of the wood. Use a paintbrush to thoroughly coat corners, edges, and the top and bottom of the redwood for a complete seal. 
Allow the sealer to dry for the amount of time specified on the product label and then apply a second coat to your redwood fence.Pour any excess sealer back into the container and close the lid tightly. Discard the tray liner and the roller cover and wash all brushes before storing.
Fences protect your most valuable asset, your home. That is why
It is of primary importance to pick a wood that is functional, resistant to decaying insets while at the same time withstanding any type of weather through out the year. Redwood Empire lumber embodies all of these important factors making it the premier choice for your fence.