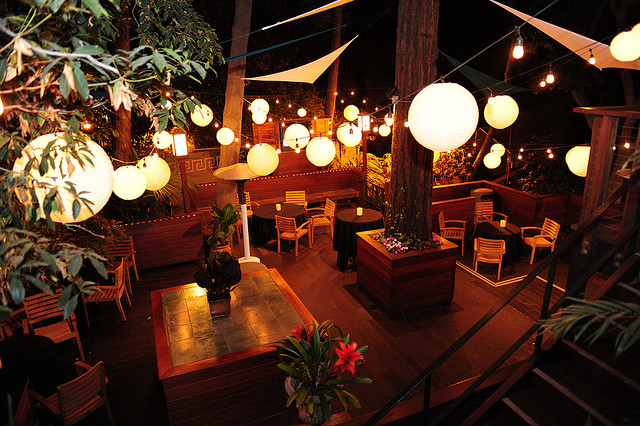 Redwood
is famous for its natural decay and insect resistance. A very stable wood with less cupping, warping and splintering than most other commercial species.
The wood is a beautiful reddish brown to blond color. Applying a clear water repellent coating will help preserve the natural redwood colors. If not maintained the wood will eventually turn a driftwood gray.  
Redwood lumber is not as prevalent in many regions of the United States as it once was. This is particularly true in the Northeast. But Redwood will be more available in these areas in the near future.
Performance Characteristics
Redwood is less susceptible to shrinkage, warping, checking and splintering than other lumbers. Endowed with natures own chemicals, these natural oils and resins help prevent rot decay and insect attack. 
Considered a softwood, Redwood may scuff or dent easier than lumber such as pressure treated or Ipe and other harder woods.
Lumber Grades
Clear All Heart Grade, is considered prime choice when it comes to Redwood. This grade will have virtually no knots and blemishes. 
A lower cost alternative grade is
Construction Heart
Redwood. This grade of Redwood will be lighter in color and have knots and grain variations.
Life Expectancy
When properly maintained a All Heart Redwood Deck may last up to 50 years or longer. 
Although Knotty Cedar is a popular alternative to Clear Cedar, the boards tend to be milled from younger trees and may not have fully developed the natural oils found in older growth forests. Knotty Cedar tends to last between 25 - 35 years.
Average Cost
Construction cost including materials is usually in line with a Cedar built deck. Approximate cost are $18.00 - $25.00 for Construction Heart Redwood. $23.00 - $35.00 for Clear Redwood.
Installation
Redwood tends to shrink less than other types of deck lumber. The preferred method is to install deck boards with an approximately 1/8 - 3/16 inch gap between boards. This is usually adequate for most installations. Generally it's a good idea to have the space small enough to allow drainage and not big enough for the possibility of a women's high heal or other small objects to fall between the boards. 
For best results, pre-drill and screw boards. Drilling will help prevent the wood from splitting and using screws rather than nails will eliminate nail heads from popping up above the wood. Drilling and screwing will also eliminate indentations left behind in the wood that's often associated with hammers and pneumatic nail guns. Redwood should be installed with stainless steel fasteners to avoid wood bleed, a common problem among cedars and some other softwoods.