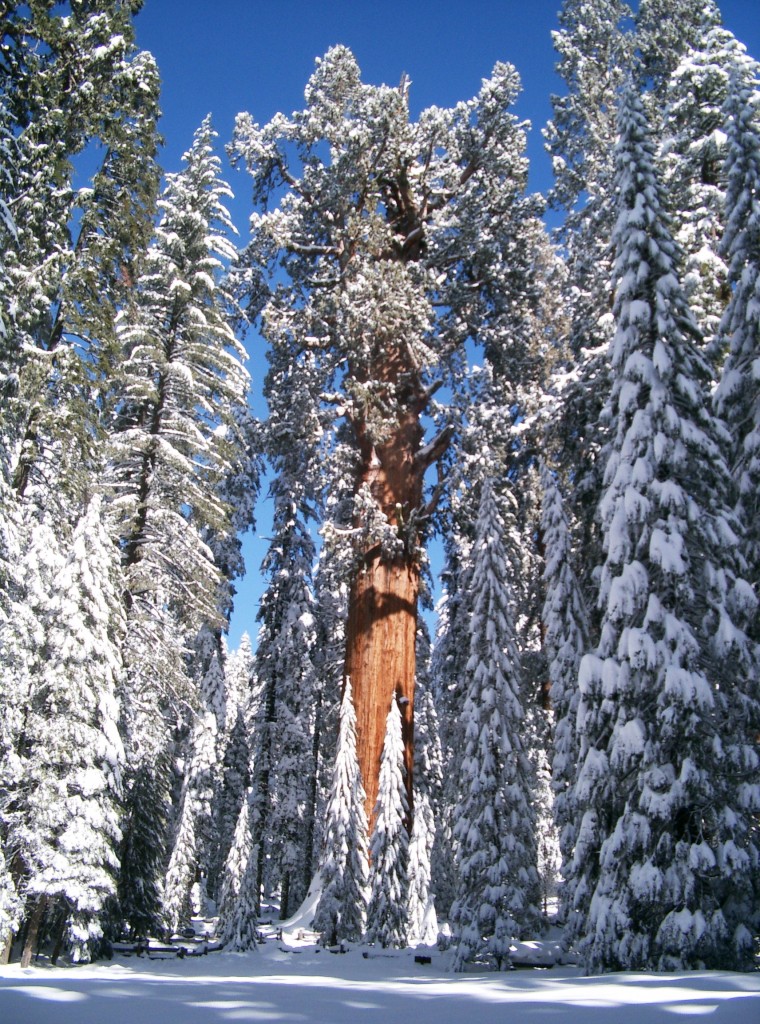 5. Calaveras Big Trees State Park
As the story goes, in 1852 a hunter named Augustus T. Dowd wounded a grizzly bear and chased him into this forest, only to find trees that were three times bigger than any he'd ever seen before. When Dowd returned to civilization, he began spreading the word about the tall, red-barked giants. Today, at 4,800 feet in the central Sierra, Calaveras Big Trees State Park still surprises visitors with its spectacular giant sequoias. 
4. Giant Sequoia National Monument
Giant Sequoia National Monument showcases nearly half of the giant sequoia groves in the entire world. While these trees don't get quite as tall as coast redwoods, some are bigger by volume. Here they grow up to 270 feet high and 30 feet in diameter. With elevations ranging from 2,000 to 10,000 feet, the 328,000-acre Monument has many other attractions, including granite peaks, rushing rivers and wildflower-filled alpine meadows.
3. Muir Woods National Monument
Eleven miles north of the Golden Gate Bridge, Muir Woods National Monument is a redwood sanctuary near San Francisco. Its coast redwoods are more than 250 feet high and 400 to 800 years old. "This is the best tree-lover's monument that could possibly be found in all the forests of the world," declared Sierra Club Founder John Muir. The forest's savior was not Muir, however, but California Congressman William Kent, who donated the land to the federal government in 1907.
2. Redwood
&

Roberts Regional Recreation Area

The slim, 150-foot trees you can see in these two regional parks are a generation removed from those that helped build the San Francisco Bay Area during and after the Gold Rush, but they represent the largest remaining stand of coast redwoods in the East Bay. With 1,829 acres surrounded by other open-space lands, Redwood Regional Park makes a significant contribution to the preservation of nature. With ball fields and swimming pools, 82-acre Roberts Recreation Area is more about family fun in a spectacular setting.
1. Pfeiffer Big Sur State Park
Pfeiffer Big Sur State Park is located off Highway 1, some 26 miles south of Carmel and two miles south of the hamlet of Big Sur. This beautiful park features redwoods, conifers, oaks, sycamores, cottonwoods, maples, alders and willows – plus open meadows. 300 of the approximately 1,000 acres in this park are protected.
Content courtesy of Save The Redwoods League.