As summer approaches, homeowners are already starting to enjoy their time outdoors while relaxing and rejuvenating on their decks. Because decks are such an envied part of a home, while also increasing a home's value, now is certainly a time that many are in the process of building their own deck.
The natural beauty of a redwood deck makes it a prized addition to any home. Redwood decks can last for years and still look great. Yet, because of its limited availability, redwood decking is an expensive material to use.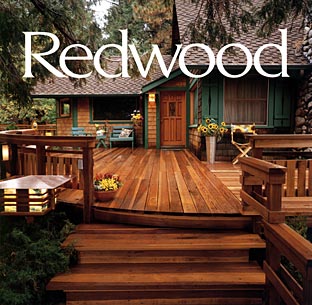 Why Redwood Decks Last Longer
Known for its long, straight grain and warm color, a redwood deck is also dimensionally stable and easy to work with. It cuts and drills easily. The wood is lightweight for its strength, has excellent resistance to decay and has greater dimensional stability. This means a redwood deck is less likely to warp, split or check. Properly cared for, redwood decks last 10, 15 and even 20 years longer than other wood after construction. Redwood is best to use for highly visible areas such as a prominent deck, as well as railings, stairs, posts or benches. 
The grade of the redwood is another consideration. Grades are based on the number of flaws in the wood: knots, sap pockets, splits, and other imperfections. Clear All-Heart grade is the prime redwood choice, with virtually no blemishes or knots. A lower cost alternative is Construction Heart redwood, which will have grain variations and knots. 
Finish Or Not To Finish Your Redwood Deck?
Redwood decking has the unique ability to remain beautiful without finishing. It can be left unfinished - and is one of the few woods that have this quality. As it weathers, several natural color changes take place. These vary from one climate to another. Usually, redwood will even out to a gray or a shade of silver tan. 
Although it is an excellent wood by far compared to composites,  jet like any wood redwood can still be damaged by wet and dry conditions, by freezing and thawing, and constant moisture. In spring and fall, be sure to clean your redwood deck and protect the surface.