AIR DRIED
Hardwood products are used for decking, cabinets, furniture, paneling, flooring, and more the Redwood Empire offers a complete line of Brazilian hardwood called Ipe.
Ipe is an extremely dense hardwood that is as durable as it is beautiful. The botanical name for Ipe is Tabebuia Ipe - Lapacho. This Brazilian hardwood is one of our most preferred woods for decking because of its rich reddish-brown hue, all-heart grade, unusual grain pattern, and decay-resistant properties. It is highly resistant to scratches, termites, fungi, chemicals, and fire. Ipe has a Class A fire rating, similar to concrete or steel.
Ipe contains no harmful chemicals and can be used near water without potential contamination. It is often used for boat docks.
Ipe is first-export quality, air-dried, and dimensionally stable. First-export quality refers to the highest grade standard you can get. Ipe is air-dried wood or Kiln-dried, arriving in containers from Brazil. A small amount of shrinkage may occur as it continues to dry and acclimate to your particular climate.
Ipe is twice as strong as oak and several times stronger than softwoods or composite decking. For example, Ipe 1x6 and 5/4 x 6 boards will span 24" and 32", respectively, on center for residential decks. (See the INSTALLATION GUIDELINES for more details).

Ipe is a very low maintenance wood for a deck since it can be left to weather to an attractive silver-gray color. Or one may choose to apply a sealer or stain to Ipe to retain its exquisite brown color. Sealing or staining the deck is an appearance option and may add to the overall life of the deck.
Ipe is a highly stable wood. It resists splintering, twisting, cracking, bowing, or cupping. Any board with this occurring can usually be straightened with proper installation. The grain does not lift, like other woods, as it weathers. An incredibly durable hardwood, Ipe is expected to last 40 or more years. It will endure the elements and heavy traffic.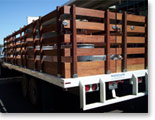 Ipe has a multitude of uses: decking, trellis', boat docks, boardwalks, outdoor furniture, and truck bedding.
Ipe dimensional lumber sizes: 4/4x4,4/4x6, 2x2 to 2x12, 5/4x4 to 5/4x8, 4x4, 6x6, and specified timbers in addition to railing system, plugs and needed accessory items. Most of the dimensional lumber comes in 8' to 20' length boards.
Ipe is milled at our affiliate company, Exmam, in Brazil. Because of this close affiliation, quality control is always at the forefront.
Ipe is harvested from well-managed, sustained yield, forests in Brazil. IBAMA is the regulatory authority that certifies the harvesting and milling practices within Brazil. Only legally harvested and tagged logs are milled and exported from our mill.